Bad Blood #1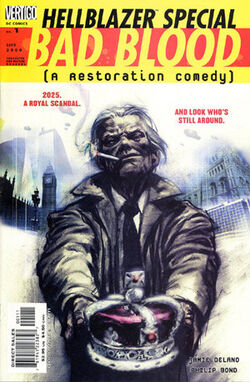 Story title(s)
'Bad Blood, part 1'
Colours
Pamela Rambo (colourist), Digital Chameleon (separations)
Editor
Shelly Roeberg and Jim Higgins (editors)
Cover date
September 2000
Hellblazer Special: Bad Blood (A Restoration Comedy) #1 (September 2000)
Plot summary
Edit
An aged, but belligerent as always, John Constantine runs afoul of the private police force responsible for protecting the shrine erected to the memory of the late Princess Diana. Left in need of medical attention, John seeks the aid of Dolly, a young woman he knows who works at a nearby body shop. After patching John back together, Dolly retreats with Constantine to a nearby watering hole where they discuss the state of London in 2025. After sharing a few drinks, Dolly invites Constantine back to her place to see "something weird".
The "weird" item in question turns out to be a letter from a television company who want to make a drama out of Dolly's life story. Dolly plans to take up their offer but she enlists Constantine's aid as her agent. Things don't go quite as planned though with John's ruffled appearance not going down too well with the tv execs. Chas shows up to speed Constantine away from the annoyed Dolly, It doesn't take long for Chas to realise that they're being tailed by internal security.
After losing security, John returns to Dolly's clinic incongito only to find that she's gone to visit her father after receiving word that he was dying. Dolly's father is a guest of the Duke Of Hartwell, the man bankrolling the television series bsed on Dolly's life. Dolly is annoyed to find that the first episode has already been made without her consent. Constantine, meanwhile, does some digging on Dolly before a heavily armed police squad arrive to haul him off. Watching the first episode of her alleged biography, Dolly is enraged to see a piece of complete fiction designed to portray her as a child who was visited by the spirit of Princess Diana.
Continuity
Edit
Use this section for listing in-story connections with Hellblazer and other comic books.
Discontinuity
Edit
Use this section to list contradictions with established continuity.
Use this section to list mistakes that have appeared in this issue.
Use this section for general notes on the issue and story.
Ad blocker interference detected!
Wikia is a free-to-use site that makes money from advertising. We have a modified experience for viewers using ad blockers

Wikia is not accessible if you've made further modifications. Remove the custom ad blocker rule(s) and the page will load as expected.