Bad Blood #2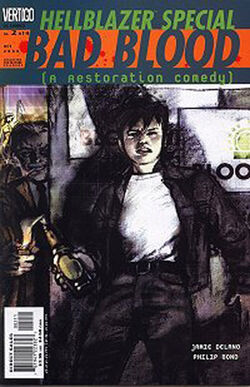 Story title(s)
'Bad Blood, part 2'
Colours
Pamela Rambo (colourist), Digital Chameleon (separations)
Editor
Shelly Roeberg and Jim Higgins (editors)
Hellblazer Special: Bad Blood (A Restoration Comedy) #2 (October 2000)
Plot summary
Edit
Dolly vents her frustration at being held captive by the Duke of Hartwell by trying to burn his stately manor to the ground, getting so far as to firebomb the Duke's Bentley before Dobbs and Dobbs cart her off in a bid to once again convince her of the validity of the Blood Lines television series. Treated to a sneak preview of the second episode, which portrays her as the granddaughter of Princess Diana, Dolly becomes convinced that the whole thing is an elaborate hoax. Before she can storm out of the manor, Dolly finds herself face to face with her bed bound father.
Constantine, meanwhile, finds himself getting the third degree from his police captors - who are anxious to learn of his part in Dolly's disappearance and the reasons behind the production of the Bloodlines program. Blackmailing his way to freedom, John gathers Chas and Sis (Dolly's security guard friend from the clinic) and brings them up to speed on Dolly's disappearance.
Dolly's father comes clean - telling his daughter of his time as a royal bodyguard to Prince Charles. When Charles hooked up with the wrong woman. Dolly's father was forced into killing her but when he realises that the woman he has just killed was pregnant, he cuts the baby from its dead mother's womb. Taking the royal heir home, Dolly was raised as his own. With his confession made, Dolly's stepfather breathes his last.
As the second episode of Bloodlines plays to the general public - showing Dolly conceiving a child by Rex, the son of the Duke of Hartwell - Constantine realises that the remnants of the monarchy are making a last ditch effort at derailing the new republic by making Dolly a new 'Queen Of Hearts'. Refusing to fall for Rex's advances off camera, Dolly is drugged as Constantine gets a lead on her whereabouts.
Continuity
Edit
Use this section for listing in-story connections with Hellblazer and other comic books.
Discontinuity
Edit
Use this section to list contradictions with established continuity.
Use this section to list mistakes that have appeared in this issue.
Use this section for general notes on the issue and story.
Ad blocker interference detected!
Wikia is a free-to-use site that makes money from advertising. We have a modified experience for viewers using ad blockers

Wikia is not accessible if you've made further modifications. Remove the custom ad blocker rule(s) and the page will load as expected.