Bloody Carnations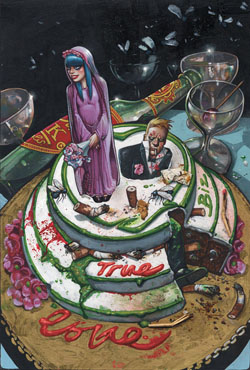 Aliases
John Constantine, Hellblazer: Bloody Carnations
Publisher(s)
DC, Vertigo, Titan Books
Bloody Carnations collects issues 267-275 of the Hellblazer series.
Publisher's description
Edit
Haunted by memories of striking Epiphany, John cuts off his thumb and enlists help from Shade the Changing Man. Plus: Old friends and demon foes converge for the royal wedding of the century when the UK's perpetual bachelor gets hitched!
Storylines collected
Edit
For detailed plot synopses, see the issues' individual wiki pages.
Sectioned
Edit
(Issue 267-270) Why would John Constantine beat Epiphany Greaves, alchemist and gangster's daughter, within an inch of his life? Even he doesn't know - and if he did, he would be too busy worrying about his world literally falling apart. Because something, somehow, has driven John completely insane. And the only man who can help him out is quite literally on another planet: Shade the Changing Man!
Bloody Carnations
Edit
(Issue 270-275) Getting married might be the happiest day in John Constantine's life. Unfortunately, the days leading up to it will be - quite literally - Hell on Earth. Demons, gangsters, succubi and a mad alien all stand between John and his bride-to-be. But thanks to time-travelling madness the biggest obstacle of all might be John himself!
Ad blocker interference detected!
Wikia is a free-to-use site that makes money from advertising. We have a modified experience for viewers using ad blockers

Wikia is not accessible if you've made further modifications. Remove the custom ad blocker rule(s) and the page will load as expected.