Chas: The Knowledge #1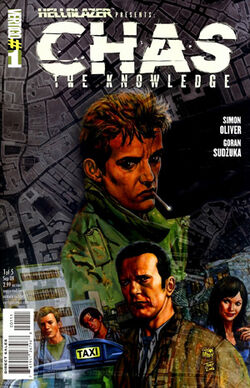 Story title(s)
'The Knowledge, part 1'
Colours
Matt Hollingsworth
Cover date
September 2008

Cab driver Francis "Chas" Chandler leads an unremarkable existence. His greatest moments have come tagging along with John Constantine—as a chauffeur. His home life is nothing special, and his beloved London is becoming a soulless metropolis. In middle age, Chas is stuck in a rut.
But Chas is a master of "The Knowledge," the elaborate system of routes and landmarks which every London cabbie must memorize. Until now, The Knowledge has been just a tool for Chas. But now, he is about to discover a more sinister significance of The Knowledge.
An ominous entity from London's grim history has reemerged, and only someone with The Knowledge can stop it.
Ad blocker interference detected!
Wikia is a free-to-use site that makes money from advertising. We have a modified experience for viewers using ad blockers

Wikia is not accessible if you've made further modifications. Remove the custom ad blocker rule(s) and the page will load as expected.