Constantine: The Hellblazer issue 13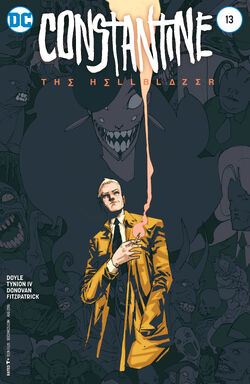 Story title(s)
'Worhtless'
Script
James Tynion IV and Ming Doyle
Plot summary
Edit
John Constantine has been to Hell so many times it feels like home—and he knows that it's no place to leave two scared little girls trapped. He's got one shot to save Oliver's kids, but he'll have to fight Faerie, Blythe, Papa Midnite and a host of even worse things while he tries to fix this latest mistake.
This is the last issue of the series. As John leaves New York City for good, he heads back to his place of growth, London in The Hellblazer: Rebirth.
Ad blocker interference detected!
Wikia is a free-to-use site that makes money from advertising. We have a modified experience for viewers using ad blockers

Wikia is not accessible if you've made further modifications. Remove the custom ad blocker rule(s) and the page will load as expected.