Constantine: The Hellblazer issue 8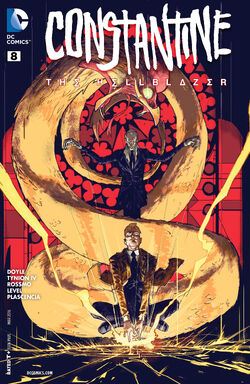 Story title(s)
'Midnight in the VIP Room of Good and Evil'
Script
James Tynion IV and Ming Doyle
Cover date
January 13, 2016
Plot summary
Edit
The creepy Mr. Rumor and his mysterious employer have executed a hostile takeover of New York's hottest supernatural nightspot! Now, only John Constantine can help Papa Midnite sneak into his own club to rescue the deadly magical artifacts inside. How is Mr. Rumor's scheming connected to the destructive magical force that's been brewing in NYC since our series began? It's the Hellblazer's business to find out.
Ad blocker interference detected!
Wikia is a free-to-use site that makes money from advertising. We have a modified experience for viewers using ad blockers

Wikia is not accessible if you've made further modifications. Remove the custom ad blocker rule(s) and the page will load as expected.