Death and Cigarettes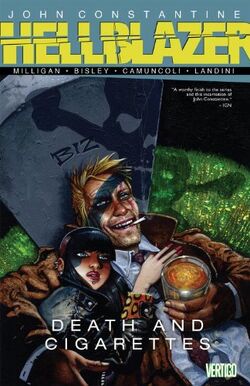 Aliases
John Constantine, Hellblazer: Death and Cigarettes
Publisher(s)
DC, Vertigo,
Release date
July 2, 2013
Publisher's description
Edit
John Constantine had no intention of tracking down his long-lost nephew, despite the promise John made to his dead mom. But mysterious circumstances and a series of murders set Constantine out to Ireland in search of his forgotten relative. However, after a séance with his late sister Cheryl, Constantine finds that there might be a lot more connections between his nephew and these set of murders than meets the eye.
In this penultimate chapter to Vertigo's longest series, Death and Cigarettes is the latest chapter in critically acclaimed writer Peter Milligan's run on HELLBLAZER.
Storylines collected
Edit
The House of Wolves (Issue 292) When John Constantine and Epiphany Greaves see a trashy werewolf movie it triggers disturbing memories of guilty sexual stirrings, lycanthropic aristocrats and socially mobile gangsters. But can John remember who was in that little red riding hood? And can Epiphany be sure what kind of beast she's sleeping with? Find out in the one-shot tale "The House of Wolves" featuring art by the amazing Simon Bisley.
Hellblazer Annual 1
Edit
A dying woman's desperate need to see her long lost son sends John Constantine on a mission in "Suicide Bridge," a haunting tale of evil and melancholy that finds John using his occult connections to learn why so many young people are going missing. It's a story full of strange places and desperate lives that leads Constantine to unearth his own connection to the mysterious disappearance of a boyhood friend.
The Curse of the Constantines
Edit
(Issues 293-297) John Constantine had no intention of tracking down his long-lost nephew, despite the promise John made to his dead mum. But jealous outbursts, strange visions and a ritual murder may force him into it after all. Dark magic, tainted blood and the occasional dead sheep.
Death and Cigarettes
Edit
(Issues 298-300) Strange portents lead Constantine to believe he's going to die in five days. How far will he go to convince his skeptical wife that his days are numbered.
Ad blocker interference detected!
Wikia is a free-to-use site that makes money from advertising. We have a modified experience for viewers using ad blockers

Wikia is not accessible if you've made further modifications. Remove the custom ad blocker rule(s) and the page will load as expected.