Fear and Loathing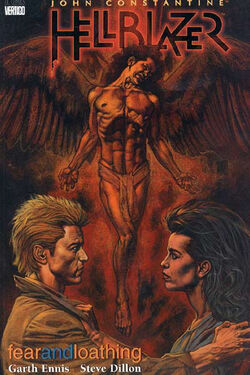 Aliases
John Constantine, Hellblazer: Fear and Loathing
Publisher(s)
DC, Vertigo, Titan Books
Fear and Loathing Collects issues 62-67 of the Hellblazer series.
Publisher's description
Edit
Cynical mystic John Constantine has dealt with the dangers of magic and mysticism firsthand. Even with his mastery of the dark arts, he has tasted death many times and barely survived. So when he learns that his niece has decided to follow his dangerous career path, he knows that even greater trouble awaits him. But not even he is prepared for what lies ahead, as he finds himself challenging mad racists, coping with personal betrayals, and attending his own fortieth birthday party with the Swamp Thing.
Storylines collected
Edit
For detailed plot synopses, see the issues' individual wiki pages. Where a storyline spans several issues but has no over-arcing title, the title of the first issue is used.
End of the Line
Edit
(issue 62) When John discovers that his niece, Gemma, has been convinced to start exploring the occult he sets out to take down the man responsible.
(Issue 63) John hits mid-life head on with a party to remember, guest-starring Zatanna, Swamp Thing and The Phantom Stranger.
Fear and Loathing
Edit
(Issue 64-66) As the angel Gabriel questions his faith, Constantine clashes with a more down-to-Earth problem: murderous British nationalists.
Dear John
Edit
(Issue 67) Constantine's life hits its lowest ebb as he falls into a pit of alcoholic despair.