Good Intentions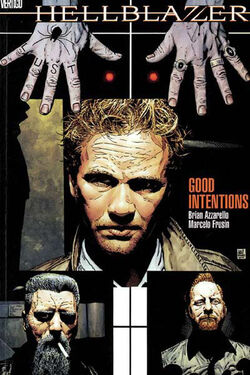 Aliases
John Constantine, Hellblazer: Good Intentions
Publisher(s)
DC, Vertigo, Titan Books
Good Intentions collects issues 151-156 of the Hellblazer series.
Publisher's description
Edit
After surviving his time behind bars for the murder of his friend Richard "Lucky" Fermin, John Constantine still must make peace with himself and the family of his deceased pal. Traveling to the hills of West Virginia where Lucky's kin live, the Hellblazer is quickly reminded that men, not magical beings, are capable of the greatest evils. Now caught up in affairs that are bizarre even to a man who has witnessed the depths of Hell, Constantine must find a way to save himself and the little town of Doglick.
Storylines collected
Edit
For detailed plot synopses, see the issues' individual wiki pages.
Good Intentions
Edit
(Issue 151-156) A trip to the wife of the man he supposedly murdered unearths a sickening truth in a backwoods Virginia town - and this time it's a very human evil. But even the man who took down Satan himself may be powerless to stop it...
Ad blocker interference detected!
Wikia is a free-to-use site that makes money from advertising. We have a modified experience for viewers using ad blockers

Wikia is not accessible if you've made further modifications. Remove the custom ad blocker rule(s) and the page will load as expected.