Haunted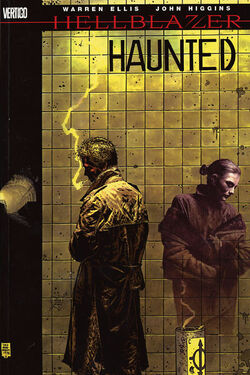 Aliases
John Constantine, Hellblazer: Haunted
Publisher(s)
DC, Vertigo, Titan Books
Haunted collects issues 134-139 of the Hellblazer series.
Publisher's description
Edit
Warren Ellis' first Hellblazer story arc is collected in this volume reprinting issues #134-139! When John Constantine's old friend Isabel Bracknell turns up dead, he goes in search of the reasons behind it. But his investigation earns him a beating from the so-called "magician" responsible. Can Constantine help Isabel rest in peace?
Storylines collected
Edit
For detailed plot synopses, see the issues' individual wiki pages.
(Issue 134-139) The horribly mutilated body of an old girlfriend sets John down a dark and winding path into London's occult scene. Can he track down her killer and lay her ghost to rest before he winds up the same way?
Ad blocker interference detected!
Wikia is a free-to-use site that makes money from advertising. We have a modified experience for viewers using ad blockers

Wikia is not accessible if you've made further modifications. Remove the custom ad blocker rule(s) and the page will load as expected.