Hellblazer: Soul Play
is a fan film adaptation created and published by Waking Dream Studios. The fan film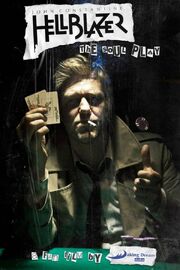 was created from a "fraction of the cost of a single FX shot of the Constantine TV show" yet creators boasted that it was a far more accurate portrayal of the character and the series.
Production
Edit
Made as a rallying cry for fans of the Hellblazer book to get behind, The Sole Play is our effort to shake some sense into DC-Vertigo, with the simple message BRING BACK HELLBLAZER! (and if they could see themselves hiring Si Spurrior as the writer, all the better).
With guest appearance from Tony Brown as Chas Chandler, additionally, as well as her credit as on-set sound, Sarah Kerry also contributed in several areas of post-production sound.
Reception
Edit
The fan film was critically-praised by comic book sites and series fans alike. Bleeding Cool stated that it was far more superior to NBC's TV show, saying "It accomplishes in 12 minutes what the "official" NBC show fails to do in more than five hours."
Ad blocker interference detected!
Wikia is a free-to-use site that makes money from advertising. We have a modified experience for viewers using ad blockers

Wikia is not accessible if you've made further modifications. Remove the custom ad blocker rule(s) and the page will load as expected.