Hellblazer #100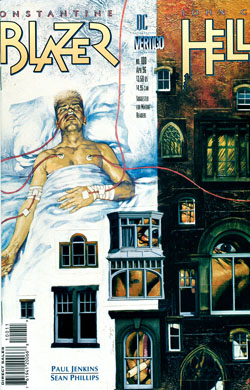 Story title(s)
'Sins of the Father'
Colours
Matt Hollingsworth
John Constantine: Hellblazer #100 (April 1996)
Plot summary
Edit
Constantine thought his troubled past was left far behind when he drained Nergal's demonic blood out of his system (in Critical Mass), but the sudden loss of supernatural power has caused his system to enter severe shock. As his body collapses in hospital, John finds his soul being dragged down to Hell by the First of the Fallen to see his damned father...
Continuity
Edit
Use this section for listing in-story connections with Hellblazer and other comic books.
Discontinuity
Edit
Use this section to list contradictions with established continuity.
Use this section to list mistakes that have appeared in this issue.
Ad blocker interference detected!
Wikia is a free-to-use site that makes money from advertising. We have a modified experience for viewers using ad blockers

Wikia is not accessible if you've made further modifications. Remove the custom ad blocker rule(s) and the page will load as expected.