Hellblazer #102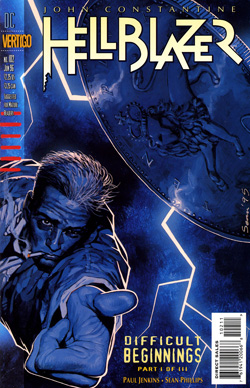 Story title(s)
'Difficult Beginnings, part one: The Single-Sided Coin'
Colours
Matt Hollingsworth
John Constantine: Hellblazer #102 (June 1996)
Plot summary
Edit
John's drifting away from the world, drowning in emotional numbness; ever since he banished his dark side to Hell, he's been passing aimlessly through life. But good cannot exist without bad, and John must regain his dark side or face destruction.
Continuity
Edit
Cameo: Yahweh (the Judeo-Christian God)
Discontinuity
Edit
Use this section to list contradictions with established continuity.
Use this section to list mistakes that have appeared in this issue.
Use this section for general notes on the issue and story.
Ad blocker interference detected!
Wikia is a free-to-use site that makes money from advertising. We have a modified experience for viewers using ad blockers

Wikia is not accessible if you've made further modifications. Remove the custom ad blocker rule(s) and the page will load as expected.