Hellblazer #106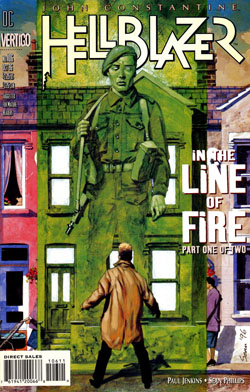 Story title(s)
'In the Line of Fire, part 1'
Colours
James Sinclair (colours), Digital Chameleon (seperations)
John Constantine: Hellblazer #106 (October 1996)
Plot summary
Edit
A house that doesn't exist and a body that should never have been discovered; Constantine stumbles across a suicide that never went away, and exposes the hapless ghost to a destructive Council officer.
Continuity
Edit
First Appearances: Jack Loudfoot (ex-WWII soldier, a ghost), Ellen, AKA Nellie (Jack's former fiancee), Bill (Nellie's present husband), Mr. McGillicuddy (Council jobsworth given the task of evicting squatters)
Discontinuity
Edit
Use this section to list contradictions with established continuity.
Use this section to list mistakes that have appeared in this issue.
Use this section for general notes on the issue and story.
Ad blocker interference detected!
Wikia is a free-to-use site that makes money from advertising. We have a modified experience for viewers using ad blockers

Wikia is not accessible if you've made further modifications. Remove the custom ad blocker rule(s) and the page will load as expected.