Hellblazer #112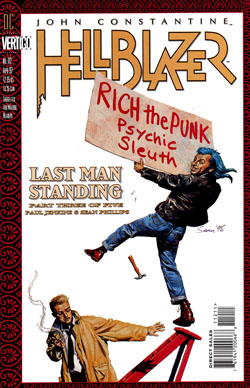 Story title(s)
'Last Man Standing, part three: Human Punk'
Colours
James Sinclair (colours), Digital Chameleon (seperations)
John Constantine: Hellblazer #112 (April 1997) Tripping on acid, Rich makes a cross-country journey to find the casket that Myrddin needs so badly, unaware that he's being followed by a crack team of Government agents. Luckily for him, the inhabitants of Abaton are around to lend him a hand.
Plot summary
Edit
Rich, long haired punk and true king of Britain, heads across the British Countryside - thinking he's on his way to pick up some dodgy substances for Constantine when in fact he's headed to Albion to collect the holy grail. Faerie's supernatural natives ensure that Myrddin's men fail in their attempts to follow Rich and steal the box which their master wants so badly. As Rich arrives in the cave which stores the treasured item, the spirit of Arthur awakens within him and questions the wisdom of returning the box to the real world. Jack persuedes him that this must be done and Rich returns to Constantine with the box, convinced that most of his 'trip' was bought on by illegal substances. An enraged Myrddin taunts the 'corpses' of Arthur's eternal court.
Opening the box, John and Rich are stunned to find a disembodied head inside...a talking disembodied head.
Continuity
Edit
Discontinuity
Edit
Use this section to list contradictions with established continuity.
Use this section to list mistakes that have appeared in this issue.
Use this section for general notes on the issue and story.
Ad blocker interference detected!
Wikia is a free-to-use site that makes money from advertising. We have a modified experience for viewers using ad blockers

Wikia is not accessible if you've made further modifications. Remove the custom ad blocker rule(s) and the page will load as expected.