Hellblazer #140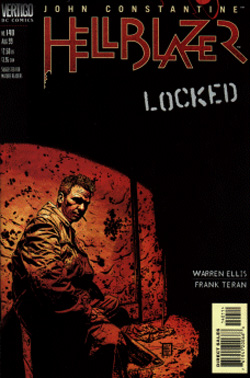 Colours
James Sinclair (colours), Digital Chameleon (separations)
John Constantine: Hellblazer #140 (August 1999)
Plot summary
Edit
A month after helping Constantine avenge Isabel's death, a desperate Watford seeks John's aid in a manhunt gone horribly wrong.
Watford and crew track a couple of thieves to a friend's house where they meet a gruesome end at the hands of their aforementioned acquaintance. Worse, when two of Watford's officers entered the room containing the bodies of the slain and the killer, they lost the plot and killed each other. A second attempt to enter the room resulted in similar consequences.
After his ritual off the cuff gruffness, John agrees to enter the room.
Constantine enters a charnel house where he's confronted by a naked, babbling psychopath and the mutilated corpses of his victims. The man delights in having 'tainted' the room with his murders but John is unfazed, goading him into action before laying him out with a broken lamp.
John drags the comatose murderer from the room before setting it alight and warning Watford not to call him again.
Continuity
Edit
Use this section for listing in-story connections with Hellblazer and other comic books.
Discontinuity
Edit
Use this section to list contradictions with established continuity.
Use this section to list mistakes that have appeared in this issue.
Use this section for general notes on the issue and story.
Ad blocker interference detected!
Wikia is a free-to-use site that makes money from advertising. We have a modified experience for viewers using ad blockers

Wikia is not accessible if you've made further modifications. Remove the custom ad blocker rule(s) and the page will load as expected.