Hellblazer #144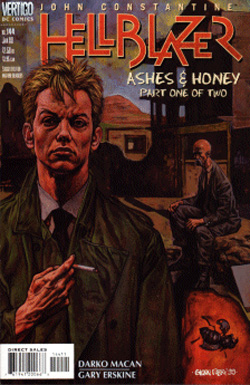 Story title(s)
'Ashes and Honey, part 1'
Colours
James Sinclair (colours) Digital Chameleon (separations)
John Constantine: Hellblazer #144 (January 2000)
Plot summary
Edit
John Constantine's efforts at uncovering the story behind an undead dog lead him to the grave of a Bosnian magician. Here Constantine meets the magician's grandson and learns about the events leading up to the man's death.
When Kemal, an aging Bosnian, notices his boots are missing he suspects that his grandson is responsible for their theft. Samir, Kemal's grandson, has discovered that the boots possess healing properties.
Samir charges others of his own age to heal their various ailments but when he tries to resurrect a boy's dead sister disaster ensues, with Constantine getting on the wrong end of a beating and Kemal having to make the ultimate sacrifice.
Continuity
Edit
Use this section for listing in-story connections with Hellblazer and other comic books.
Discontinuity
Edit
Use this section to list contradictions with established continuity.
Use this section to list mistakes that have appeared in this issue.
Use this section for general notes on the issue and story.
Ad blocker interference detected!
Wikia is a free-to-use site that makes money from advertising. We have a modified experience for viewers using ad blockers

Wikia is not accessible if you've made further modifications. Remove the custom ad blocker rule(s) and the page will load as expected.