Hellblazer #20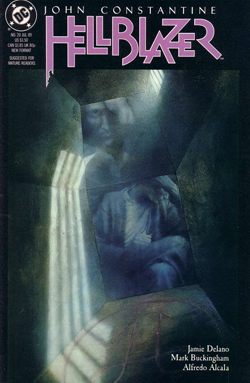 Story title(s)
'The Fear Machine, part 7: Betrayal'
Colours
Lovern Kindzierski
John Constantine: Hellblazer #20 (July 1989)
Plot summary
Edit
The wheels within wheels within wheels begin to turn: Fulton frees Mercury, but is arrested and ultimately killed for it. John collects together a team to crack the problem, comprising of himself, Det. Inp. Talbot, Simon the journalist and Sergei the Russian scientist. In Geotroniks, Webster - the Freemason who tried to kill Simon - begins to prepare for the coming of a creature called Jallakuntilliokan by slaughtering the "Scaredies", children first. Finally, Davis, the corrupt copper who helped kidnap Mercury, is payed to go on one last mission: kidnapping Constantine and his team!
Ad blocker interference detected!
Wikia is a free-to-use site that makes money from advertising. We have a modified experience for viewers using ad blockers

Wikia is not accessible if you've made further modifications. Remove the custom ad blocker rule(s) and the page will load as expected.