Hellblazer #21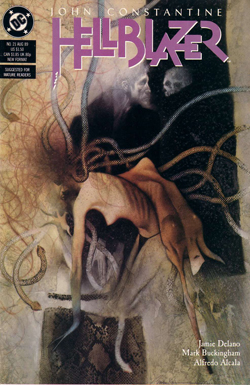 Story title(s)
'The Fear Machine, part 8: The God of all Gods'
Colours
Lovern Kindzierski
John Constantine: Hellblazer #21 (August 1989)
Plot summary
Edit
The Grand Lodge try to call off Webster , but he's gone rogue. John presses a Freemason MP for info and discovers that The G.O.A.G. is the God of All Gods , AKA Jallakuntilliokan , but that it has nothing to do with Geotroniks ' plans. They wanted to use the ley lines to amplify fear and civil unrest, causing society to crumble into anarchy and allowing the construction of Fortress Britain by the Grand Lodge. Webster's plans are far more grand, however - he wants to use the terror creature formed from the "Scaredies'" nightmares as bait for Jallakuntilliokan!
Ad blocker interference detected!
Wikia is a free-to-use site that makes money from advertising. We have a modified experience for viewers using ad blockers

Wikia is not accessible if you've made further modifications. Remove the custom ad blocker rule(s) and the page will load as expected.