Hellblazer #242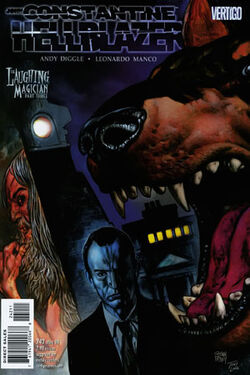 Story title(s)
'The Laughing Magician, part 3'
John Constantine: Hellblazer #XXX (Month and year) Put a brief synopsis of the issue's contents here.
Plot summary
Edit
Mako kills and consumes Lord Calvin's sorcerer Rinzen in the presumption that he was The Laughing Magician. When this is revealed to be not the case, he turns to Lord Calvin, who shows Mako his portal into hell. He proposes they work together: Mako will create Lord Calvin's soul cage that Rinzen couldn't in exchange for Mako being allowed to use the hell mirror to power his sympathetic magic.
Continuity
Edit
Conclusion of the first part of the "The Laughing Magician" storyline, which will be reopened and fully concluded in issue 247 and 248.
Discontinuity
Edit
Use this section to list contradictions with established continuity.
Use this section to list mistakes that have appeared in this issue.
Use this section for general notes on the issue and story.
Ad blocker interference detected!
Wikia is a free-to-use site that makes money from advertising. We have a modified experience for viewers using ad blockers

Wikia is not accessible if you've made further modifications. Remove the custom ad blocker rule(s) and the page will load as expected.