Hellblazer #284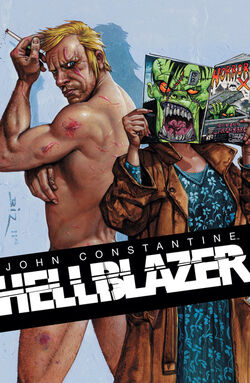 Story title(s)
'The Devil's Trenchcoat, part two'
John Constantine: Hellblazer #284 (December 2011) continues the Devil's Trenchcoat storyline.
Solicitation text
Edit
When Georgie comes into possession of Constantine's trench coat, she finds her life imitating the art from her favorite comic book. Meanwhile, Constantine's attempts to repay a debt he owes his father-in-law ends in bloody disaster – and speaking of debts, Tamsin the witch thinks she owns a piece of our urban mage's errant niece, Gemma.
Ad blocker interference detected!
Wikia is a free-to-use site that makes money from advertising. We have a modified experience for viewers using ad blockers

Wikia is not accessible if you've made further modifications. Remove the custom ad blocker rule(s) and the page will load as expected.