Hellblazer #286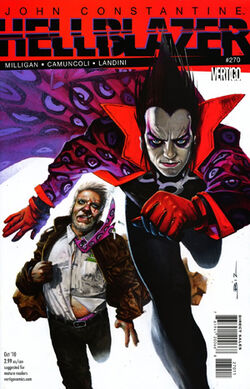 Story title(s)
'The Devil's Trenchcoat'
Editor
Shelly Bond (editor), Angela Rufino (asst. editor)
John Constantine finally tracks down Tamsin , the sometime witch who's been tormenting his niece Gemma .
Meanwhile, Constantine's trench coat works its way back to its original owner, leaving a trail of death and madness. But none of this can compare with the shocking revelation that lies in store for our long-suffering occultist.
Ad blocker interference detected!
Wikia is a free-to-use site that makes money from advertising. We have a modified experience for viewers using ad blockers

Wikia is not accessible if you've made further modifications. Remove the custom ad blocker rule(s) and the page will load as expected.