Hellblazer #270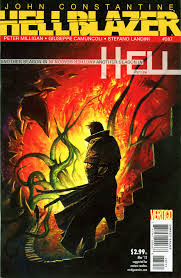 Story title(s)
'Another Season in Hell pt 1'
Editor
Shelly Bond (editor), Angela Rufino (asst. editor)
Collected in
'Another Season in Hell'
John Constantine is going to Hell and back – this time, it's a favor to his niece Gemma , who happens to be in deep and dirty with London gangster (and Constantine's father-in-law) Terry Greaves . A farting demon, a suspicious angel, a Hellish aquarium, and an old adversary all await Constantine in "Another Season in Hell ."
Ad blocker interference detected!
Wikia is a free-to-use site that makes money from advertising. We have a modified experience for viewers using ad blockers

Wikia is not accessible if you've made further modifications. Remove the custom ad blocker rule(s) and the page will load as expected.