Hellblazer #288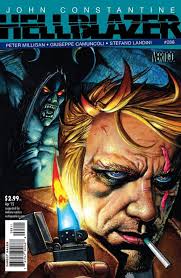 Story title(s)
'Another Season in Hell pt 2'
Editor
Shelly Bond (editor), Angela Rufino (asst. editor)
John Constantine has been to hell before, but this time it's for real. Our London chancer must gamble with a powerful adversary, while in the land of the living Epiphany draws blood and Gemma regrets toying with the feelings of gangster Terry Greaves . The line between Hell and Earth fades in part 2 of "Another Season in Hell ."
Ad blocker interference detected!
Wikia is a free-to-use site that makes money from advertising. We have a modified experience for viewers using ad blockers

Wikia is not accessible if you've made further modifications. Remove the custom ad blocker rule(s) and the page will load as expected.