Hellblazer #291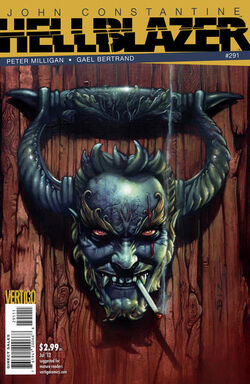 Story title(s)
'Another Season in Hell epilogue'
Editor
Shelly Bond (editor), Angela Rufino (asst. editor)

For years John Constantine has been tormented by his evil, Hell-dwelling twin (Demon Constantine ). But now, seeing what a mess his niece Gemma is still in because of this doppelganger, he decides to take action. Sweet(ish) revenge, a diabolical church, an old lover, a human sacrifice and a nifty poison dart gun feature in this epilogue to "Another Season in Hell ."
Ad blocker interference detected!
Wikia is a free-to-use site that makes money from advertising. We have a modified experience for viewers using ad blockers

Wikia is not accessible if you've made further modifications. Remove the custom ad blocker rule(s) and the page will load as expected.