Hellblazer #297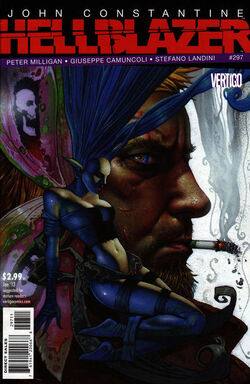 Story title(s)
'The Curse of the Constantines Conclusion'
Editor
Shelly Bond (editor), Angela Rufino (asst. editor)

Hungry ghosts, tainted fairies and a mother's lively corpse converge in Ireland as John Constantine uncovers the serial killer's identity and the terrible truth about his nephew Finn 's beautiful wife. "The Curse of the Constantines " reaches its conclusion, and there's nothing W.B. Yeats can do about it.
Ad blocker interference detected!
Wikia is a free-to-use site that makes money from advertising. We have a modified experience for viewers using ad blockers

Wikia is not accessible if you've made further modifications. Remove the custom ad blocker rule(s) and the page will load as expected.