Hellblazer #298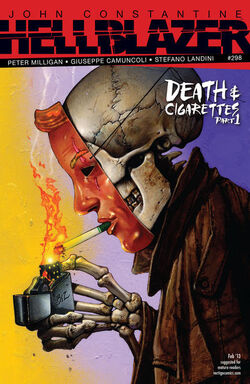 Story title(s)
'Death and Cigarettes Pt. 1'
Editor
Shelly Bond (editor), Angela Rufino (asst. editor)

Strange portents lead John Constantine to believe he's going to die in five days. How far will he go to convince his skeptical wife, Epiphany , that his days are numbered? Find out in "Death and Cigarettes " part 1!
Ad blocker interference detected!
Wikia is a free-to-use site that makes money from advertising. We have a modified experience for viewers using ad blockers

Wikia is not accessible if you've made further modifications. Remove the custom ad blocker rule(s) and the page will load as expected.