Highwater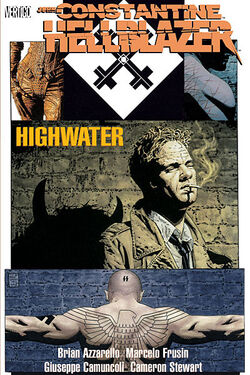 Aliases
John Constantine, Hellblazer: Highwater
Publisher(s)
DC, Vertigo, Titan Books
Highwater collects issues 164-174 of the Hellblazer series.
Publisher's description
Edit
Collecting all of Eisner Award-winning writer Brian Azzarello's remaining issues of Hellblazer (#164-174), this hefty 264-page trade paperback brings to a shattering finale John Constantine's arduous trek across America and answers the burning questions that put him on the road in the first place. This volume features two complete story arcs — "Highwater" and "Ashes & Dust" — each illustrated by Marcelo Frusin. Also included are two one-shots: "A Fresh Coat of Red Paint" (with art by Guiseppe Camuncoli) and "Chasing Demons" (with art by Cameron Stewart).
Storylines collected
Edit
For detailed plot synopses, see the issues' individual wiki pages.
Highwater
Edit
(Issue 164-167) Looking for one last meeting with Lucky's wife, John tracks her to the town of Highwater, where he clashes with neo-Nazis, arms dealers and the billionaire SW Manor.
A Fresh Coat of Red Paint
Edit
(Issue 168) Looking for a little downtime before his next meeting with Agent Turro, John picks up a prostitute and... goes to play bingo?
Chasing Demons
Edit
(Issue 169) While John puts up with madmen and strangers in a bar, SW Manor discusses his own twisted motivations.
Ashes and Dust in the City of Angels
Edit
(Issue 170-174) Who killed John Constantine? Agent Turro investigates John's murder at a Los Angeles S&M club.