Hooked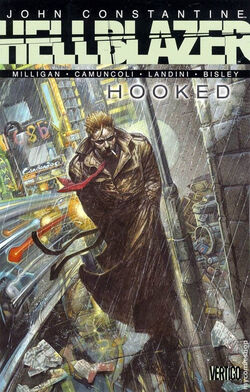 Aliases
John Constantine, Hellblazer: Hooked
Publisher(s)
DC, Vertigo, Titan Books
Hooked collects issues 256-260 of the Hellblazer series.
Publisher's description
Edit
In this collection featuring issues #256-260, John Constantine goes to extremes to get his ex-girlfriend back. But will he sink to a new low by using a love potion?
Storylines collected
Edit
For detailed plot synopses, see the issues' individual wiki pages.
(Issue 256-258) John can't seem to get his ex-girlfriend out of his head so he decides to get himself into hers with a love potion, courtesy of gangster's daughter and amateur alchemist Epiphany Greaves. But the course of false love does not run smooth - especially when the demon Julian is involved.
The Cottage
Edit
(Issue 259) Constantine's determined to contact his ex, Pheobe, and rents a quiet cottage in the country to do so. But what he discovers will shock him to the core.
The Long Crap Friday
Edit
(Issue 260) John needs to get to India to put things right, but with a murder charge on his head and a dodgy passport in his back pocket that'll be easier said than done. Especially when Epiphany Greaves's gangster father gets hold of him...
Ad blocker interference detected!
Wikia is a free-to-use site that makes money from advertising. We have a modified experience for viewers using ad blockers

Wikia is not accessible if you've made further modifications. Remove the custom ad blocker rule(s) and the page will load as expected.