Buer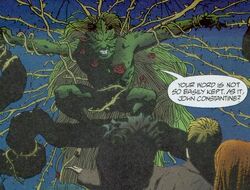 Occupation
Personification of Britain's Green Fields
Jack of the Green is a powerful elemental and personification of Britain's green and pleasant land. He is the traditional mascot of the English May Day parade.
Jack is one of the pivotal supporting characters during Paul Jenkins run on the series. He helps John Constantine in his fight against two of the most prominent enemies in the run, the demon Buer and the immortal Myrddin. He is also a close friend of many of Britain's folkheroes such as King Arthur and Bran the Blessed.
Ad blocker interference detected!
Wikia is a free-to-use site that makes money from advertising. We have a modified experience for viewers using ad blockers

Wikia is not accessible if you've made further modifications. Remove the custom ad blocker rule(s) and the page will load as expected.