Justice League Dark #1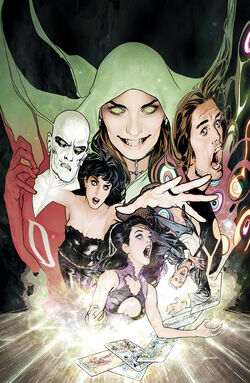 Cover date
September 2011
Justice League Dark #1 (September 2011) is the first in an ongoing series exploring the dark side of the DC Universe and starring John Constantine.
Solicitation text
Edit
The witch known as The Enchantress has gone mad, unleashing forces that not even the combined powers of Superman, Batman, Wonder Woman and Cyborg can stop. And if those heroes can't handle the job, who will stand against this mystical madness?
Shade the Changing Man, Madame Xanadu, Deadman, Zatanna and John Constantine may be our only hope – but how can we put our trust in beings whose very presence makes ordinary people break out in a cold sweat?
Ad blocker interference detected!
Wikia is a free-to-use site that makes money from advertising. We have a modified experience for viewers using ad blockers

Wikia is not accessible if you've made further modifications. Remove the custom ad blocker rule(s) and the page will load as expected.