Newcastle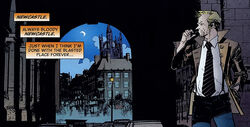 Newcastle (full name Newcastle upon Tyne) is an industrial city in the north of England linked heavily with coal production - hence the phrase 'Like taking coals to Newcastle'. Although it has not featured heavily in Hellblazer, it was at the centre of a formative event of John Constantine's life, as detailed in Hellblazer issue 11.
Notable Newcastle locations
Edit
Notable issues and stories set in Newcastle
Edit
Ad blocker interference detected!
Wikia is a free-to-use site that makes money from advertising. We have a modified experience for viewers using ad blockers

Wikia is not accessible if you've made further modifications. Remove the custom ad blocker rule(s) and the page will load as expected.