Phantom Pains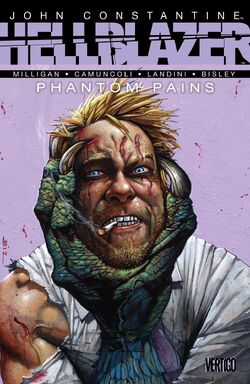 Aliases
John Constantine, Hellblazer: Phantom Pains
Publisher(s)
DC, Vertigo,
Release date
February 21, 2012
Publisher's description
Edit
After seeing his new wife Epiphany react to his now thumb-less hand, Constantine goes on a quest to find a suitable replacement for his missing digit. While he tries to literally sew himself back together, John's niece Gemma plots a scheme of revenge against her uncle. Will Constantine be able to fend off his own family's demonic fury?
Storylines collected
Edit
High Frequency Man
Edit
(Issue 276) In this standalone story a real-estate investor looking to make a quick buck gets in the way of happily married bliss for John Constantine, and learns the hard way that's something you should never do...
Phantom Pains
Edit
(Issues 277-281) As far as Gemma Masters is concerned, she was assaulted by her own uncle – by John Constantine himself! Now, she wants her revenge. Unbeknowst to John, our scruffy urban mage has more immediate concerns: his lovely new wife finds him repulsive. Or rather, Epiphany is suddenly freaked out by the sight of his thumb-less hand. This sets Epiphany on a dark journey into her past and pushes Constantine on an even darker quest along London's North Circular Road, in search of a new digit...
(Issue 282) In a British prison, a shape-shifting product of the Babylonian backstreets called Julian is about to have some fun at the prisoners' expense. Now, the prison has become a kind of living Hell – even more than before – which should make John Constantine feel right at home when he poses as an inmate and tries to dish out his own rough justice to demonic prisoner number 666.
Ad blocker interference detected!
Wikia is a free-to-use site that makes money from advertising. We have a modified experience for viewers using ad blockers

Wikia is not accessible if you've made further modifications. Remove the custom ad blocker rule(s) and the page will load as expected.