Setting Sun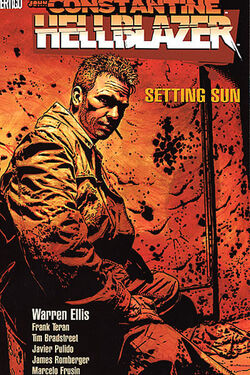 Aliases
John Constantine, Hellblazer: Setting Sun
Publisher(s)
DC, Vertigo, Titan Books
Setting Sun collects issues 140-143 of the Hellblazer series.
Publisher's description
Edit
This new trade paperback features five bone-chilling tales of horror, magic, loss and regret with art by five world-class illustrators, originally presented in Hellblazer #140-143, the last four issues of Warren Ellis's run on the book.
Storylines collected
Edit
For detailed plot synopses, see the issues' individual wiki pages.
(Issue 140) In a cramped room in a run-down house, two men spent eight days being tortured to death. The officers sent in to take the killer turned on each other. Now the killer is waiting, surrounded by blood and body parts. And it's John Constantine's turn...
(Issue 141) David Niles is a journalist tracking 'the crib', which is said to hold the still-living, aborted foetus of the anti-Christ. But a terrifying killer is taking down everybody associated with it, and his name is... John Constantine?
Setting Sun
Edit
(Issue 142) A ghost that refuses to move on reveals a horrifying history of experimentation in WWII Japan.
One Last Love Son
Edit
(Issue 142) In this short story, a drunken Constantine recalls the ghosts of girlfriends past.
Telling Tales
Edit
(Issue 143) The terrible truth about occult London is revealed to a conspiracy theorist - but can he handle it?
Ad blocker interference detected!
Wikia is a free-to-use site that makes money from advertising. We have a modified experience for viewers using ad blockers

Wikia is not accessible if you've made further modifications. Remove the custom ad blocker rule(s) and the page will load as expected.