Stations of the Cross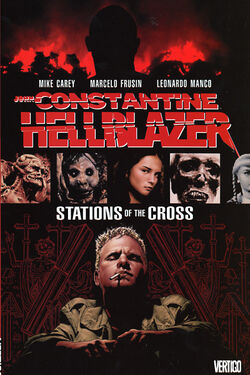 Aliases
John Constantine, Hellblazer: Stations of the Cross
Publisher(s)
DC, Vertigo, Titan Books
Staring at the Wall collects issues 194-200 of the Hellblazer series.
Publisher's description
Edit
Collecting Hellblazer #194-200, Stations Of The Cross finds John Constantine in the aftermath of the near-apocalypse he unwittingly caused, alone and with no memory of his identity or history. But the Hellblazer still has his usual luck, and soon enough he's being hunted by man and demon alike — and about to make the worst mistake of his long, blood-soaked life.
Storylines collected
Edit
For detailed plot synopses, see the issues' individual wiki pages.
(Issue 194) Unable to remember who or where he is, Constantine walks through a London just beginning to heal in the wake of the Shadow Dog affair. But without his memory he is defenceless - from both a brutal serial killer and someone (or something) far, far worse.
Out of Season
Edit
(Issues 195-196) Chas and his family head to a secluded, out-of-season hotel to recuperate. But this will be no relaxing holiday: as the amnesiac Constantine and his murderous stalker cross their paths, Chas and his family are placed in terrible danger.
Stations of the Cross
Edit
(Issues 197-199) Still haunted by fragments of his lost past, Constantine is once again homeless on the streets of London. There, he finds himself taken in by a seemingly benign religion started in the wake of the Shadow Dog affair. But the ringleader of the church is an old enemy, and he's got nasty plans for the hapless mage...
Happy Families
Edit
(Issue 200) John finds himself living three different lives with three former lovers. But which of the lives is real, and what is happening to him?
Ad blocker interference detected!
Wikia is a free-to-use site that makes money from advertising. We have a modified experience for viewers using ad blockers

Wikia is not accessible if you've made further modifications. Remove the custom ad blocker rule(s) and the page will load as expected.