The First of the Fallen
Comments

0
617pages on
this wiki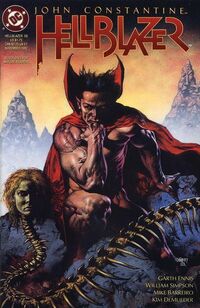 The
First of the Fallen
debuted in the
Dangerous Habits
storyline in issue #42 (June 1991), and was created by Garth Ennis and Will Simpson.
The First of the Fallen was introduced to be the iconic Vertigo Comics manifestation Devil, but due to continuity conflicts with Neil Gaiman's use of Lucifer in the The Sandman, an alternate background had to be developed. Instead, he was revealed to be the first being created and the first to be banished to Hell - hence the First of the Fallen.
Neil Gaiman used the character of Lucifer in his Season of Mists storyline for The Sandman. In Gaiman's story, Lucifer was the sole ruler of Hell who decided to give up his position in order to travel the world, with the key to the gates of Hell eventually being returned to the representative of Heaven. Because of this, Ennis made it clear that the First of the Fallen, aka Satan, was a different character. Making Lucifer and Satan separate characters. The First himself was more alike to the Judeo and Muslim Satan.
In Dangerous Habits, The First of the Fallen tried to claim the soul of a friend of Constantine's that had been sold to him. He was tricked (and assaulted) by Constantine, resulting in him missing his agreed-upon deadline to claim the soul. Later in the same storyline, the First was shown as being one of a triumvirate of rulers in Hell - with the other two devils (the Second and Third of the Fallen) only having the power to defeat him if they acted together.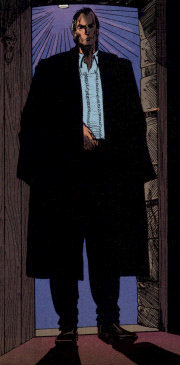 The battle between Constantine and the First became one of the recurring themes of Ennis' run on the comic, with his final climactic storyline involving Constantine's final victory. Intended as a powerful antagonist for the John Constantine, the First proved to be a popular character and the majority of regular series writers since Ennis have used the character in one form or another.