The Horrorist #2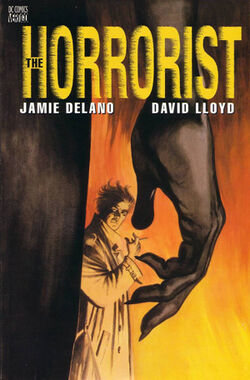 Story title(s)
'Antarctica, part 2'
John Constantine: Hellblazer #XXX (Month and year) Put a brief synopsis of the issue's contents here.
Plot summary
Edit
An emotionally numb Constantine sets out to locate Angel, a beautiful young refugee from an African war zone, in the desolate, flat, motel-ridden interior of Middle America. On the way he sees hints of the sort of ethnic cleansing, famine and horrific strife that happen in the Third World, but sees only indifference and apathy among the locals. His search eventually leads him to Angel, who appears to be torching the minds of anyone who crosses her path by revealing to them to horrors of her African homeland. Given the full realization of what has been happening to people in places like that, Constantine's emotions return to him.
Continuity
Edit
Use this section for listing in-story connections with Hellblazer and other comic books.
Discontinuity
Edit
Use this section to list contradictions with established continuity.
Use this section to list mistakes that have appeared in this issue.
Use this section for general notes on the issue and story.
Ad blocker interference detected!
Wikia is a free-to-use site that makes money from advertising. We have a modified experience for viewers using ad blockers

Wikia is not accessible if you've made further modifications. Remove the custom ad blocker rule(s) and the page will load as expected.