The Search for Swamp Thing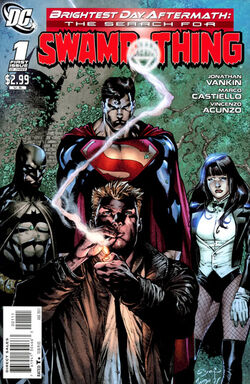 Aliases
Brightest Day Aftermath: The Search for Swamp Thing
Format
Three-issue miniseries
Dates
August 2011-October 2011
The Search for Swamp Thing was a three-issue miniseries that span out of Brightest Day and ran from August-October 2011. It focused on John Constantine's search for Swamp Thing, who had become homicidal after the events of Brightest Day. This was Constantine's first appearance significantly interacting with the larger DC Universe in decades.
Production notes
Edit
The comic span out of the Brightest Day maxi-series. After its conclusion, two more comics picked up where it left off: Justice League Dark and Swamp Thing volume five.
Ad blocker interference detected!
Wikia is a free-to-use site that makes money from advertising. We have a modified experience for viewers using ad blockers

Wikia is not accessible if you've made further modifications. Remove the custom ad blocker rule(s) and the page will load as expected.