The Trenchcoat Brigade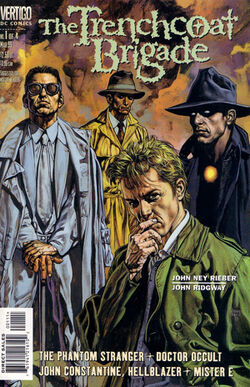 Publisher(s)
DC Comics, Vertigo
Format
Four-issue miniseries
Dates
March 1999-June 1999

The Trenchcoat Brigade was a four-issue miniseries that ran in March 1999 as a spin-off from the original Books of Magic miniseries. It was written by John Ney Rieber, who also wrote an ongoing Books of Magic series.
An apocalyptic vision glimpsed by madman Mister E sends John Constantine, The Phantom Stranger and Doctor Occult into a ruined future, where an ancestor of Constantine's, long thought dead, holds the key to saving the entire planet.
Ad blocker interference detected!
Wikia is a free-to-use site that makes money from advertising. We have a modified experience for viewers using ad blockers

Wikia is not accessible if you've made further modifications. Remove the custom ad blocker rule(s) and the page will load as expected.