The Trenchcoat Brigade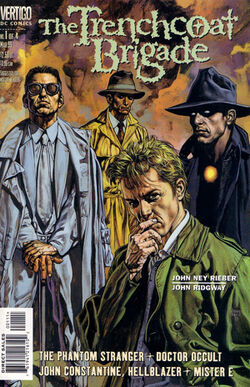 Aims
Averting disaster on Earth
The Trenchcoat Brigade is the unofficial name given to a group of four supernatural anti-heroes who sometimes find themselves allied to protect the world. The name was said in jest by John Constantine, one of the members, but began to be used occasionally after that. As the group's members are disparate and sometimes mutually antagonistic, The Trenchcoat Brigade is not an ongoing concern, but exists only when its members have been brought together by fate.
John Constantine, a magus and conman.
The Phantom Stranger, a supernatural being of mystery and phenomenal power.
Doctor Occult, an investigator of the strange who shares his body with a woman named Rose Psychic.
Mister E, a misogynistic psychopath who experiences psychic visions.
Ad blocker interference detected!
Wikia is a free-to-use site that makes money from advertising. We have a modified experience for viewers using ad blockers

Wikia is not accessible if you've made further modifications. Remove the custom ad blocker rule(s) and the page will load as expected.